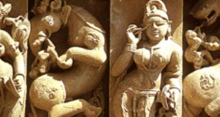 Madhya Pradesh Monuments
Spectacular mountain ranges, meandering rivers dotted with bold hills and lakes and miles and miles of dense forests offering a unique and exciting panorama !
Tour Length : 5 Nights / 6 Days
Highlights : Gwalior - Orchha - Khajuraho

Day 1 : Gwalior
Upon arrival, transfer to hotel and check- in at hotel. Rest of the day is at leisure. Overnight at the hotel.

Day 2 : Gwalior - Orchha
After breakfast, visit Gwalior Fort and other famous monuments- Mansingh Palace, Tombs of Tansen and Ghaus Mohammad, Jai Vilas Palace and Museum and the newly built Sun Temple. Later proceed to Orchha and check into the hotel. Overnight at the hotel.

Day 3 : Orchha
After breakfast, visit Jehangir Mahal built by Bundela rulers to honour the Mughal Emperor, Raj Mahal, Rai Praveen Mahal, Chhatries Dinman Hardauls Mahal and Sunder Mahal. There are also temples built by the Bundela rulers such as the Chaturbhuj Temple, Laxminarayana Temple. Evening, visit Ram Raja Temple to observe Aarti or traditional offering to God. Overnight at hotel.

Day 4 : Orchha - Khajuraho
Morning, you leave for Khajuraho, the land of erotic temples. Arrive Khajuraho in noon-time and check into hotel. Afternoon, visit the Eastern Group of Temple, which includes the famous Jain Temples, followed by visit to Southern group of Temples like the Chaturbhuj and the Duladeo Temples during sunset. Overnight at hotel.

Day 5 : Khajuraho
After breakfast, take a tour of full day sightseeing of famous temples visiting Lakhshmana Temple dedicated to lord Vishnu, the lakshmi and Varaha temples dedicated to Vishnus consort lakshmi, the Khandariya Mahadev temple dedicated to Lord Shiva and the Chausath Yogini temple dedicated to goddess Kali and the Jain temples of Parsvanath, Adinath, Shanti nath. Visit the Archaeological museum with its collection of stone sculptures of the Chandela dynasty and the Hindu temples of Vamana and Brahma/Hanuman, both dedicated to lord Vishnu. Overnight at hotel.

Day 6 : Khajuraho - Gwalior
Transfer to Gwalior airport for your onward journey. Tour ends.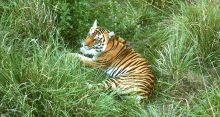 Madhya Pradesh Nature and Wildlife

Tour Length : 8 Nights / 9 Days
Highlights : Jabalpur - Pachmarhi - Kanha - Bandhavgarh


Day 1 : Jabalpur
Arrive Jabalpur and check into hotel. If time permits, you will visit Marble Rock known locally as Bhedaghat, this gorge on the Narmada River is 22km from Jabalpur. The gleaming white cliffs, raise sheer from the clear water, and are a very impressive sight, especially by moonlight. The first 500m are pretty dull, but as you glide upstream with the massive, naturally sculpted marble crags crowding in around you, it is difficult not to be impressed. Over night at hotel.
0
Day 2 : Jabalpur - Pachmarhi
Morning transfer to Pachmarhi. The natural beauty of Pachmarhi lies in a group of waterfalls, and the green color of nature. Bridle paths lead into tranquil forest, the fruit bearing mahua, aoia and gular trees, all lend their distinctive color tones. Overnight at hotel.

Day 3 : Pachmarhi
After breakfast, visit to Apsara Vihar Falls, a lovely little bathing pool and easily accessible from Jai Stambh. This fairy pool, is an ideal picnic spot for families with children. About 3 Km from Pachmarhi, is a very beautiful waterfall, called the B Falls. About half a kilometer below Pachmarhi, one gets the feeling that molten silver is being poured from this fall. Then you can visit to Bharat Neer. It is accessible, via a steep descent from the footpath around the Astachal Hill. Further proceed for Cahuragarh and Dhupgarh. These are two separate hills at Pachmarhi. From here, one can watch the spectacular sunrise and sunset. Evening, come back to the hotel for overnight stay.

Day 4 : Pachmarhi
This day is at leisure to immerse in the beauty of this hill station. Overnight at hotel.

Day 5 : Pachmarhi - Kanha
After breakfast you will drive to Kanha. On arrival stay at hotel. Kanha, is one of India's largest national parks covering 1945 sq. kms. Kanha, a beautiful area of sal and bamboo forest, rolling grasslands with many rivers and streams, supports an excellent variety of wildlife. Situated in a horseshoe shaped valley, this park with its entire natural splendour was the setting, inspired Kipling's Jungle Book. Established in 1955, it came under Project Tiger in 1974. Overnight at hotel.

Day 6 : Kanha
Early morning and evening, you visit the sanctuary for a jungle safari by jeep. The rest of the day is at leisure. Overnight at hotel.

Day 7 : Kanha - Bandhavgarh
After breakfast, you will drive to Bandhavagarh. On arrival stay at hotel. Bandhavgarh is essentially known for its small, but thriving national park, which is home to tigers, langurs, chinkaras, chitals, sambars and the Indian bison.The terrain is rocky with swamps and thickly forested, locally known as bohera. The park is best explored, on the back of an elephant. During the winter months, migratory birds, including the steppe eagle and a variety of wildfowl, head for this park. Overnight stay at hotel.

Day 8 : Bandhavgarh
This day is free or you could visit the jungle. Overnight at hotel.

Day 9 : Bandhavgarh - Jabalpur
After Breakfast you will drive to Jabalpur to board a train or flight for onward journey. Tour ends


Testimonials
"Co-operation from Ttravel Solutions was very good, very prompt response. In a nutshell, enjoyed our Kerela family holiday very much "
Parag Dagli : Pediatrician
" THANK YOU VERY MUCH for the great service on our Rajasthan family holiday. There were no hiccups anywhere. Can we recommend your company to others? Most certainly will. Watch out for more requirements in the years to come!! "
Gopalan Kumar : NRI, based in Australia